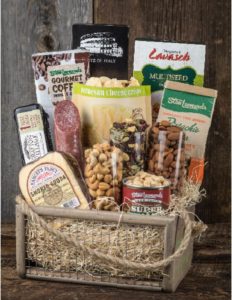 It becomes essential to use sympathy gifts often, in order to console and support others while they are grieving over the loss of a beloved. This is the moment when you can actually support your loved one by sending them personalized sympathy gifts. There are a plethora of options available which can convey the right message you want to send across. Although helping a dear one can prove to be one of the hardest challenges you can go through, you can always look for ways to send across your deepest sympathies. A good condolence gift will be able to convey your heartfelt sentiment to the grieving person. Here are some options that you can consider while looking for condolence gifts to help a dear one.
Gourmet gift basket
Sending a gourmet gift basket comprising of nutritious snacks can prove to be an incredible gift to the grieving family and friends. Fresh fruits and cheeses are a pleasant way of showing how much you care about the family. Sending a gift basket can bolster the grieving family with extra support that they are in need of.
Memorial trees
What can be more meaningful than planting a tree or a kitchen plant in the memory of the deceased soul? This gift will last for generations and would be remembered by one and all in the family. Sending memorial trees have become the latest trend when it comes to condolence gift and can provide a sense of comfort over a long time.
Personalized mug
Anything handmade is worth appreciating as it adds a personal touch to any gift. You can consider printing the photo of the deceased soul on a mug and gifting it to the grieving person. This can prove to be a really meaningful condolence gift which can remind them of the happy moments spent with the deceased person. Rather than printing the image of the deceased person, you can consider printing a group photo which would remind the grieving person of the beautiful moments spent with the departed soul.
Cremation jewelry
This is becoming one of the most popular gifts when it comes to condolence gifts. The ashes of the deceased soul can be used to make rings, bracelets or necklaces. The grieving members would certainly appreciate this special, thoughtful condolence gift. After all, this is a reverent and discreet way of keeping a deceased one close to heart. These jewelry designs carry a sentimental value. A family heirloom can infact be redesigned to form cremation jewelry. These jewelry come with limitless design options. If you are looking for extra personalization, then you can consider engraving a picture or a quote on the piece.
Flowers
Sending flowers to a grieving family can never be unparalleled when it comes to condolence gifts. When you send flowers to a friend or family member, they are comforted by the beauty of nature. This expressive gesture brings moments of peace to the members who are going through tough times in life. This is the reason why opting for flower delivery can prove to be a wonderful condolence gift idea. You can send flowers easily in minutes regardless of where you are in the world. You have numerous choices when it comes to picking gorgeous condolence flowers online. Sending flowers convey a direct message about how much you care about their feelings and want to console them during their loss.